S & T Notes - issue 164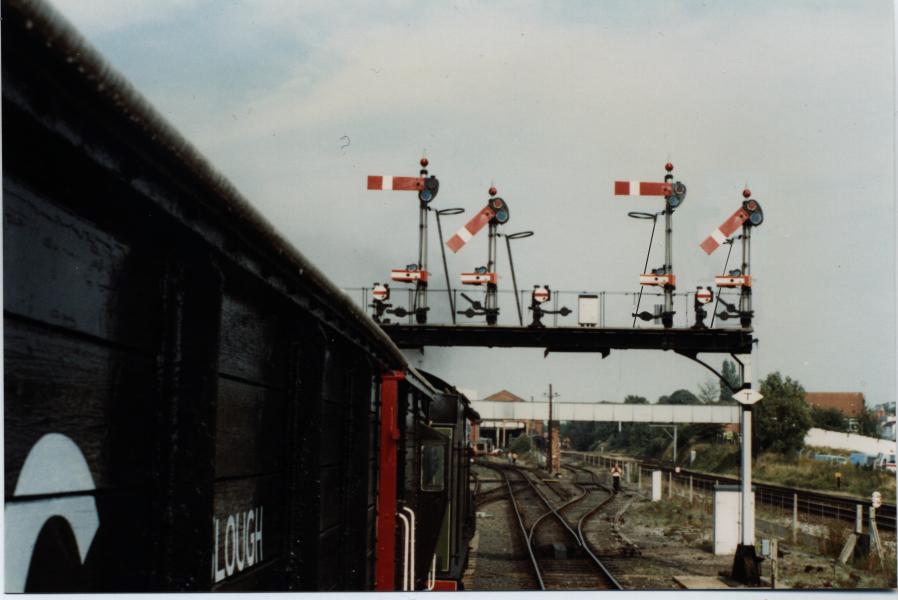 An artist's impression of how the signal gantry at Kidderminster might look in a few years' time.
SIGNALLING NOTES - Chris. Hall
These notes are rather shorter than normal as the editor's deadline looms. We have ceased to regard imminent rainfall with trepidation and are finding the S&T fault line occasionally amusing once more (which means we are pretty much up to date again). In my last article I was able to say that the possession had been handed back on 18th March 2008 - this did not mean that we had finished!
Trains had started running over the whole length of the line but Highley was still disconnected. We had some very welcome assistance from the North York Moors Railway to help dig in the rather large concrete bases for point rodding roller castings into some very compacted rolled stone ballast. We also had a number of lengths of cable that had to be laid in troughing, reterminated, tested and commissioned. Suffice it to say that we had completed our work with only a few exceptions: the S&T infrastructure is complete but there is a damaged cable to be replaced between Highley Down Distant and Home signals and we have not quite completed re-cabling at Arley, a new cable between Arley Down Homes and the signal box is not yet commissioned. Effectively though our infrastructure was complete again before the next line closure.
We did have an interval of normality between August and October (before the next line closure) and we have been spending some time at Bridgnorth replacing two cranks and one compensator on the yard points with refurbished units (which should make these points much easier to operate) as well as two compensators on the facing point lock and a crank at the north end. Some of the units that we took out have been sent to the workshops at Bridgnorth for refurbishment so that we can continue the gradual process of replacement of worn items.
In case the term 'compensator' is unclear, this device, firmly fixed to a large concrete block, buried in ballast, reverses the direction of movement of point rodding so that equal lengths of rodding operate in 'push' and 'pull' for any movement. This means that the movement of the points is substantially unaffected by changes in temperature. As these devices wear then this introduces backlash into the rodding making the points more difficult to work.
Forthcoming work includes the new platform 2 dock at Kidderminster - although this looks fairly simple on the ground, the location cupboards had to be moved (these are now on the new platform) and electrical work is required in the signal box. We also need to replace a cable between Alveley and Hampton Loade.
Every time the line is closed it makes extra work for our Department because someone will want to dig up the ballast where we have some cables. The closure between Bewdley and Kidderminster in October and November to work on the Worcester road bridge was no exception and we turned out in early October, with the assistance of a road-rail excavator to dig up the signalling cable from the Kidderminster Up Homes back towards the Down Outer Advanced Starting Signal, clear of the road bridge. We rolled up the cable onto a (large) cable drum clear of the work site and turned our attention to the major piece of work we had planned.
This was the repainting and modification of the signal gantry at Kidderminster to accommodate an additional doll (which would not be fitted for a year or two) to provide a signalled passenger route onto Network Rail. Our Departmental artist has attempted to show how the signal might look if the work goes to plan. All work was complete, including unrolling and re-burying the cable in time for the Santa service to operate.
An appeal! We really need four of these lamp fittings.
A rather unusual image of a signal, I know, but we do really need four more of the 'Adlake' lamps we use. If anyone can help us locate some more of these lamps, it would be much appreciated. As I write this article, Highley is about to be disconnected (again!) to allow another spell of work on the new footbridge - a piece of work which (fortunately) involves us in little work as our equipment should not be affected by the work.
A final reminder that this article and the photographs associated with it, as well as other S&T information, can be viewed in full colour on the unofficial S&T (signals) web site at http://www.svrsig.org/ (or look for 'svrsig' on google).
issue 154 -- return to main page -- issue 178